We produce videos of industrial machinery and plants.
Production systems and industrial machinery may need to be filmed for different, apparently conflicting reasons.
Videos of industrial machinery are designed to help market it, as anyone who sells new or used equipment knows.
A lot of people think that the best way to do this is to show how the machine works in a highly polished, engaging way, to capture the viewer's attention.
There's nothing wrong with that approach, but it's probably more suited to consumer goods that need the wow factor.
When it comes to industrial machinery, on the other hand, production and rapid return on investment are the key priority.
This is why we need to show how the machine works, what it does, and the benefits it delivers.
When shooting a video of a production system the main aim is to show why a customer should choose that machine over a competitor's model.
Right from the outset the video should highlight why that system works better than others, why it requires less maintenance, why it ensures faster lead times.
To achieve this, it is ideal to film the machine and the operator at work, with sequence shots that will leave customers in no doubt.
Ensuring credibility is a must.
Filming the inside of the machinery can be very effective.
Or getting first-person shots from the operator's point of view.
These are optimum ways of showing maintenance operations.
Or we can opt for overhead filming when the machine is running.
We provide support before filming to work out what to show and in what order. And above all we help the company prepare the text for the voice-over explaining each step.
For each language we adapt the sequence so it remains in sync with the text.
Well-produced images can be used not just for sales purposes, but also for producing instructional videos and tutorials.
We offer live streaming for remote demonstrations and virtual open houses.
And for acceptance, commissioning and functional testing.
These are genuine live demos that show how the machinery works, not just for marketing purposes, but also to illustrate the activities and procedures involved in the testing prior to delivery.
Industrial machinery videos and films: examples
extrusion: plant and machine lines
extrusion lines – plants – extrusion of plastic materials – polymers – extrusion process – extrusion polyethylene – pvc – aluminum – rubber
| DISCOVER |
cnc lathes - machine tools
vertical lathe – parallel lathe – cylinder balancing – machine tool – numerical control lathe – cnc lathe – 3 and 5 axis lathes
| DISCOVER |
milling machines - CNC machine tools
milling machines: portal milling machines – machine tool – machining center – CNC – 5-axis milling machine – bench milling machine – vertical milling machine
| DISCOVER |
Molds and molding techniques
molds – rotational molding – plastic molds – metal molds – polyurethane, resin, composite, thermoplastic, sheet metal molds
| DISCOVER |
laser - plasma - oxyfuel cutting
sheet metal laser cutting, laser beam machining – plasma cutting – oxyfuel – punching machines – sheet punching
| DISCOVER |
integrated logistics - intermodal solutions
logistics – intermodal solutions – integrated logistics – warehouse – goods transport – packaging – warehouse automation
| DISCOVER |
Chemical industry - industrial chemistry
Chemical industry, industrial chemistry chemical companies, industrial video production of chemicals
| DISCOVER |
Analysis laboratories - cleanroom
Microbiological chemical cleanroom analysis laboratories, controlled atmosphere rooms, microbiology laboratories, clean rooms
| DISCOVER |
Farms, crops, agriculture
Videos for farms, promotional videos for local products, educational farms, crops, vineyards, farms, intensive or organic farming
| DISCOVER |
welding of metals and plastics
welding of metals and plastics – robotic welding, mig / mag, tig, electrogas, electrode, arc
| DISCOVER |
polishing and finishing surfaces
panel calibration machines – belt grinding machine – plate grinding – metal finishing – surface finishing – surface polishing
| DISCOVER |
machines for the textile industry
textile industry machines – textile printing machines embroidery machines – sewing machines – fabric cutters – shoe machines
| DISCOVER |
Summary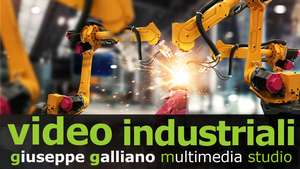 Article Name
Description
Videos for industrial machinery, videos to support the sale of industrial machinery, industrial plants machine tools video tutorials, videos for testing and acceptance of industrial machines and production systems
Author
Publisher Name
Publisher Logo