Corporate videos produced in recent years to present and promote
companies
SMEs
medium and large enterprises
these are videos that we shot for the most diverse production sectors that serve to illustrate
positioning in the Company market
services and products
production and design cycles
commercial and geographical positioning
sustainability of production cycles
All the corporate videos  presented below were produced entirely with in-studio technologies. If you want to know how, here you find how we produce corporate videos and videos; here are some tips on how to develop them and how to have prices, credible preventive costs
Company video MWM Schmieranlagen – minimal lubrication air oil MQL minimum quantity lubrication interview Maurizio Mazzoni microlubrication for industry minimal lubrication systems
Corporate video Frediani the art of pattern making, tailoring heritage, high fashion industry womenswear and menswear pattern making, pattern making art
Freschi & Schiavoni Company Video – Air Transport Logistics – Handling – Air Carrier Logistics multi-service logistics operator for airlines and shippers – cargo – air transport
Company video SAES Getters research laboratories – company videos company video laboratories research functional materials, shape memory alloys, vacuum technologies, functional polymer composites, lithium batteries
Company videos Boca Stampi, company video, video presentation Boca Foundry Models, Rotational Molds, Thermoforming, thermosetting, Composite Molds
Corporate Video Grafoplast identification systems for the electrical engineering and industrial automated market
Corporate video Deko, a leading manufacturer of paints in the cookware sector (non-stick coatings for cooking pots), roller and spray painting
Bio Basic Europe company videos: clinical and laboratory tests, microbiological, chemical-physical instrumental analyzes in vitro, clinical studies in vivo
Company video BTSR – company videos electronic sensors and electronic component textile industry
BC Cosmetic and Food company video – food and cosmetic chemistry company videos, chemical production promotional video for the cosmetic and food industry
Company video Cab Log logistics integrated with large-scale trucks, Horeca. The company video was shot in the group's three logistics warehouses in Noale (VE), Landriano (PV), Albairate (MI)
Corporate video for Ceme, a landmark for solenoid pumps and solenoid valves, pressure switches, flow meters for a perfect fluid control. 
Corporate video Polaris Group presentation promotion company management safety work training medicine work risk assessment laboratories analysis
Ricci Company Video Chemical Products Industry – Company Videos chemical analysis laboratory, chemical products for the textile industry, metals, cosmetics, paints, tannery.
Company video Sirius Electric – Company video welding thermoplastic materials; Sirius Electric ultrasonic, vibration, rotary friction and hot blade welding systems for thermoplastic materials
Sarel company video medium voltage devices such as electrical panels, switchgear, disconnectors, MV switches.
Eurofoam company video, production of rubber articles – compact and expanded – for industrial applications.
Technical Rubber company video, production of rubber and silicone profiles by extrusion of expanded and compact rubber.
Company video Bright Solutions: production of high brightness lasers and diodes for the industrial, aerospace, medical, military and scientific sectors.
Corporate video Miretti spa: world leader in the field of explosion-proof transformations of vehicles designed to operate in potentially explosive atmospheres.
Company video – SAES Getters – Shape Memory Alloys – Saes Getters, industrial production of shape memory alloys Shape Memory Alloys.
Rice Harvesting Company Video by PhosAgro; control of the effects of phosphates for rice cultivation, compared to commercial fertilizers; with the University of Milan and Agricola 2000
Corporate Video Rotech S.r.l. rehabilitation and renewal of pipes specialized in rehabilitation operations with systems without excavation
Emotional corporate product video that tells the story of Emmebiesse SPA terry and honeycomb fabrics, sheets, table linens
Corporate Video Riso Acqua e Sole; production Rice sale carnaroli rice black rice red rice dark rice
Karin Company Video – accident prevention clothing and technical clothing in the industrial sector, safety at work
Company video General Cavi, world leader in the production of cables in the Energy, Telecommunications and Data Transmission sectors.
Imeas company video: surface processing: machines for satin finishing, brushing, metal polishing, wood sanders, wood calibrators.
Company video purification plant in the caves dug inside Monte Tobel in San Lorenzo di Sebato to minimize the environmental impact.
Po Valley Energy Corporate Video 2015 shareholders' meeting The CEO Sara Edmonson illustrates the results achieved and the new extraction plants.
Corporate Video for Gimasi Academy, Swiss training business unit dedicated to Digital Strategy. Courses, training, online training, teaching.
Promotional corporate video Bogogno Golf Resort.
Company Video Nuova Gidue, a company that designs and manufactures the most modern label printing machines.
Summary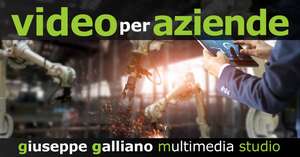 Article Name
corporate videos movies for companies Galliano Studio
Description
corporate videos produced for the promotion and presentation of companies in any language, videos for trade fairs and social networks, promotional videos
Author
Publisher Name
Publisher Logo