Acceptance and demo streaming Industrial machinery
We offer live streaming for demos, testing and acceptance of machinery or systems, with customers and technicians connected remotely.
As well as systems for communicating with your contacts at invitation-only digital events and webinars.
These can be used to illustrate plant and machinery without an audience present, and are ideal for live demos, machine commissioning and acceptance, with the client attending remotely.
We set up easily movable equipment on each company's premises, to show viewing clients how a machine or production line functions, and to carry out all verification or testing operations together.
Testing procedures are performed and streamed live, so the customer has all the assurances they need for the acceptance phase, as if they were present.
We install a large number of cameras, fixed, mobile and remote, at all the critical points in the system.
As well as first-person micro-cameras to provide more detailed images from the operator's point of view.
Private, invitation-only sessions can be organised, with the opportunity for interaction, or genuine live demos, at different times to cover each time zone.
Industrial machinery videos and films: examples
extrusion: plant and machine lines
extrusion lines – plants – extrusion of plastic materials – polymers – extrusion process – extrusion polyethylene – pvc – aluminum – rubber
| DISCOVER |
cnc lathes - machine tools
vertical lathe – parallel lathe – cylinder balancing – machine tool – numerical control lathe – cnc lathe – 3 and 5 axis lathes
| DISCOVER |
milling machines - CNC machine tools
milling machines: portal milling machines – machine tool – machining center – CNC – 5-axis milling machine – bench milling machine – vertical milling machine
| DISCOVER |
Molds and molding techniques
molds – rotational molding – plastic molds – metal molds – polyurethane, resin, composite, thermoplastic, sheet metal molds
| DISCOVER |
laser - plasma - oxyfuel cutting
sheet metal laser cutting, laser beam machining – plasma cutting – oxyfuel – punching machines – sheet punching
| DISCOVER |
integrated logistics - intermodal solutions
logistics – intermodal solutions – integrated logistics – warehouse – goods transport – packaging – warehouse automation
| DISCOVER |
Chemical industry - industrial chemistry
Chemical industry, industrial chemistry chemical companies, industrial video production of chemicals
| DISCOVER |
Analysis laboratories - cleanroom
Microbiological chemical cleanroom analysis laboratories, controlled atmosphere rooms, microbiology laboratories, clean rooms
| DISCOVER |
Farms, crops, agriculture
Videos for farms, promotional videos for local products, educational farms, crops, vineyards, farms, intensive or organic farming
| DISCOVER |
welding of metals and plastics
welding of metals and plastics – robotic welding, mig / mag, tig, electrogas, electrode, arc
| DISCOVER |
polishing and finishing surfaces
panel calibration machines – belt grinding machine – plate grinding – metal finishing – surface finishing – surface polishing
| DISCOVER |
machines for the textile industry
textile industry machines – textile printing machines embroidery machines – sewing machines – fabric cutters – shoe machines
| DISCOVER |
Summary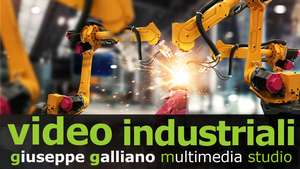 Article Name
testing and streaming acceptance of machinery
Description
Demonstration, testing and functional acceptance of an industrial machinery in live streaming, demos of industrial plants live without public with customers connected remotely
Author
Publisher Name
Publisher Logo